3D ACA™ 500
X-TRA CUT COMPOUND™ is infused with ALPHA CERAMIC ALUMINA™. Alpha
Ceramic Alumina™ is a revolutionary new abrasive which has been
constructed to provide lower heat, high speed leveling which will
correct even the most challenging clearcoats and single stage paint.
This precisely engineered compound delivers TRUE PAINT PERFECTION in the
absolute shortest amount of time.
ACA™ 500 X-TRA
CUT COMPOUND™ is extremely versatile. ACA™ 500 is aggressive enough to
correct the hardest new ceramic clear coats and refined to the point
that extremely soft clears are not over lacerated. It is easy to use,
easy to clean-up, is sun friendly and contains "No" harmful Solvents,
Kerosene or OSHA regulated CRYSTALLINE SILICA. ACA 500 X-TRA CUT
COMPOUND™ can be perfectly paired with either a WOOL or FOAM pad and
used with a rotary buffer or dual action polisher.
3D knows what
every detailer wants; a simple TRUE PAINT CORRECTION SYSTEM that
delivers the perfect finish in the shortest amount of time…EVERY TIME.
3D ACA™ 500 X-TRA CUT COMPOUND™ combined with 3D AAT™ 502 FINISHING POLISH™ is that system.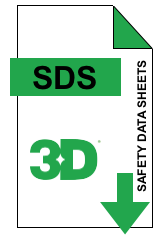 500 - ACA X-tra Cut Compound SDS Sheet
* These SDS Sheets are in .pdf format. Please download Adobe Acrobat Reader to view them. You can also right-click and 'save as' to save it.